Have you just booked your first dog photography session? Still considering what kind of pet portrait session would suit best? The following tips are designed to set you on the right path to getting the most from your day.
Undecided on whether getting a pet portrait is for you? Check out the article Why Get a Pet Portrait?.
Decide the Location
One of the first things you should do when considering your dog photography session is to decide on where you would like to have it.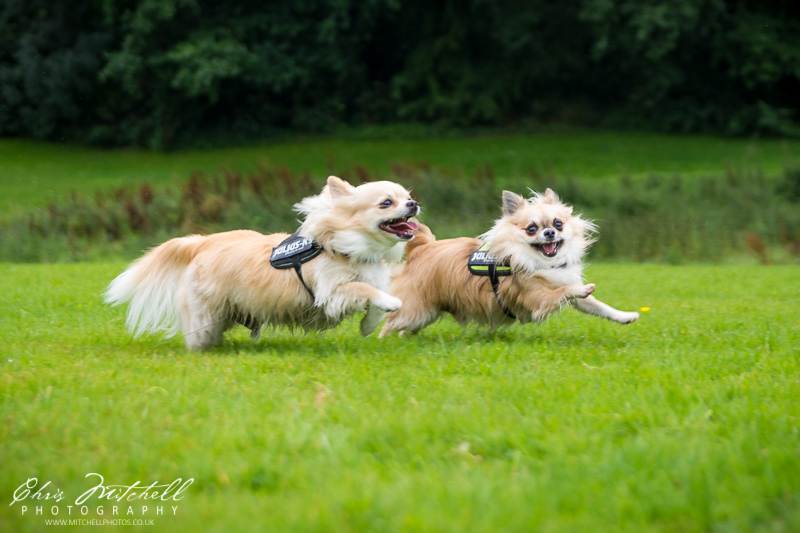 If your dog is young, boisterous and highly energetic, then an outdoor location shoot may be best. Outdoors provides plenty of room for action shots and chasing balls. Make sure to check for local restrictions in advance, though. If the location you choose is strictly on-lead only, then it may be more difficult to achieve some of those high energy pet portraits you might like.
An older, more sedate pet may be better suited to a home visit. A familiar surrounding can help settle your dog faster, and there will be plenty of opportunities for fantastic images of them lazing around their favourite spots of the house.
Of course, there are always exceptions to these. You may have a large outdoor area at your property, allowing you to get both action and indoor images. A more elderly pet may have a special outdoor location that they just love pottering around. We can discuss what kind of images you would like as part of your prebooking consultation.
Training
Does your pet have a particular pose or behaviour that you would like to capture? It may be worth spending some time reinforcing these traits with some positive encouragement training in the weeks prior to your pet portrait session. At the very least, doing some work on some simple commands, such as sit, lie down and stay will help the session move along smoother.
However, if you don't have the best trained pet in the world, don't worry! This is all part of the character of your dog, and their personality is always something I aim to capture in your images.
Grooming
The level of grooming required is very much dependant on the breed of your dog and your own personal preference.
If you are not in the habit of getting regular grooming, but would like to have your pet tidied up, then I would suggest having it done at least one week in advance to allow for the cut to look a little more natural.
Full grooming is not required if you would like to maintain that rugged look. A quick trim around the face so we can get a good view of those lovely eyes, a nail clip and a bit of a brush will be just fine.
Clothing and Props
For safety reasons, any outdoor pet portrait session requires the dog to have a properly fitting collar. A thin lead would also be useful, being easier to edit out of images later if needed.
All other props and dog clothing are optional. Feel free to bring along anything that you feel may give a bit of flair to your session, although if your pet is not used to wearing clothing, then it would be best to ensure they are comfortable in doing so beforehand so as not to be disappointed.
It should go without saying, but items such as prong collars, shock collars, or any other pieces that can cause significant discomfort to an animal are not permitted on any of my pet portrait sessions.
Before the Session
Most dogs will benefit from a good walk shortly before the dog photography session. This will burn off some of their excess energy and allow them to calm down a little faster once the session starts. But, do keep in mind the physical condition of your pet and how active you would like your session, so don't completely exhaust your dog.
Make sure you also dress appropriately. Take account of the weather forecast if an outdoor location session has been booked and ensure you have suitable footwear for the location you have chosen.
Some owners like images of themselves and their family with their pet, while others will prefer to stay behind the camera. Whilst I will try to accommodate your wishes, be prepared for the possibility of having to be at least partially in the photograph, as this may be the best way to help pose your dog for that perfect portrait. Solid colours for your own clothes work best for providing the least distraction and focusing all the attention on to your pal.
Bring Treats and Toys
Does your dog have some favourite treats or toys? Bring them along to help focus your dog's attention when posing and to provide some fun relief in between.
Treats work especially well for the food motivated. They can be used to hold a pose or catch their attention or to look in just the right direction. Of course, we need to make sure that your pet gets rewarded for all their good work too and it may take a few treats for each set of images to make things just right.
Toys can provide lots of fun images of chasing, catching and carrying. They also provide some welcome relief for your dog between the the hard work of staying in place long enough to get those great posed images.
Bring along plenty of drinking water, and of course the necessary items for clean-up after your dog.
And finally…
Relax and Have Fun
Your dog looks to you to on how to react to this strange person with the camera, so relax and let yourself enjoy the experience. Don't worry if your pet seems uncooperative at first. All of my pet photography sessions allow plenty of time for the dog to get used to my presence and the images will soon be rolling in.
Ready to book your dog photography session? Get in contact to arrange a no pressure pre-booking consultation to discuss your needs.
Chris captured lasting memories of more than fifty furry family members in the last year. He provides high quality prints for display, but his real passion is getting images that really show off the personality of a pet. Get in touch to arrange a pre-booking consultation.